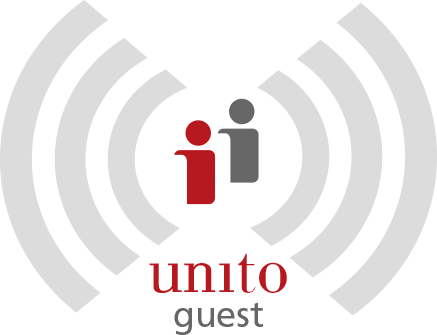 Guests needing temporary access for events, seminars and conferences can use the captive portal  technology. Authorisation will be granted by entering your credentials. 
Who can use the service
Guests of the University of Turin with temporary credentials (commonly called guest credentials)
UniTO users with valid SCU credentials (the same ones used to access MyUniTO and e-mail).
How to request guest credentials
Guest credentials can be requested from the RIF of your host structure or event organiser.
Access instructions
To connect to the guest-merged network, consult the support page for the instruction manuals,  available for each operating system.
Technical features
Technology: captive portal
Security level: unsecured
Limitations: the browsing session lasts 5 hours, after which the authentication procedure must be  repeated.
User information and conditions
The person in charge of data processing is the Director of the Information Systems, Portal, E learning Department
The service is intended for teaching, scientific research and user support 
The logs that trace access are kept for 6 months. Access is recorded, stored on logs with the date,  time, the device from which you are browsing, the destination IP (this is a technical registration,  made automatically by the system). The data is accessible to system administrators and is consulted  only for specific issues regarding IT security or by specific request of public security authorities.