IAI-University of Turin Essay Prize on Italian Foreign Policy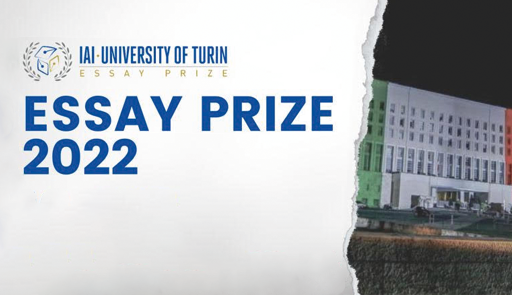 The Department of Historical Studies of the University of Turin and the Istituto Affari Internazionali (IAI) are pleased to announce the launch of the 2nd edition of the IAI-University of Turin Essay Prize, an initiative aimed at fostering debate and stimulating discussion on relevant themes tied to Italian foreign policy, with an emphasis on new generations.
The essay contest is promoted in collaboration with the Compagnia di San Paolo Foundation, the Scuola di Studi Superiori "Ferdinando Rossi", and the Fondazione Luigi Einaudi. It is directed at students aged 32 or younger and enrolled at the University of Turin. Applicants should reflect on historical, social, cultural, technological and economic-related aspects connected to current and past trends in Italian foreign policy by drafting a short analytic essay.
Against the backdrop of renewed conflict in Europe and ongoing turmoil in the Middle East and North Africa (MENA), the rise of China and the challenges related to pandemics, the climate emergency and energy transitions, Italy faces a number of uncertainties with regards to its foreign policy. Moreover, foreign policy tends to receive scant attention in contemporary national debates and media analyses, resulting in a general lack of attention and appreciation for Italy's role, capabilities and interests abroad.
How to participate
Interested applicants should send a novel, unpublished essay written in UK English of no longer than 1800 words, including footnotes (for editorial guidelines, see "How to quote paragraph" - p. 2). Essays can address any topic of relevance to Italian foreign policy.
 Essays should be submitted in a word document, along with an updated CV, proof of age and of enrolment at the University of Turin to Dr. Elisabetta Farroni ([email protected]) by 9th September 2022.
The award ceremony
Five winning essays will be selected by a IAI-University of Turin Advisory Board and announced on 30th September 2022.
Prizes for the winning essays will be awarded during a ceremony held in early November 2022.
Winning essays will be published in standalone format within the IAI Commentaries series on the IAI website.
A monetary remuneration (gross sum) will be provided for the top five essays selected by the IAI-University of Turin advisory board:
1st place prize: 1.000 euro
2nd place prize: 800 euro 
3rd place prize: 600 euro 
4th place prize: 400 euro 
5th place prize: 200 euro