Marco Polo and Turandot projects
Information is currently being updated. Please consult this section frequently.
The project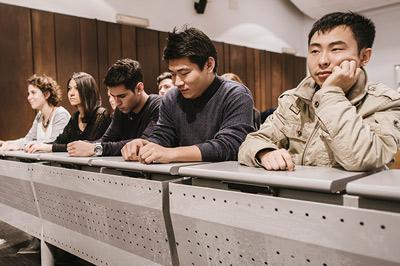 Marco Polo project is a program aimed at providing Chinese students who wish to study at an Italian University but have no Italian competency the opportunity to obtain a University Enrolment Visa for those undergraduate and postgraduate degree programs which reserved places for Marco Polo students, on the condition that students take a 10 or 11 month Italian language course prior to the university enrolment. Students may choose the language course they wish to attend from the ones offered by the universities or language schools participating in the Marco Polo project. Students who at the end of the language course obtain the B1 or higher level certificate of the Italian Language Proficiency Test will meet the language proficiency entry requirement.
Course offering
For students applying for the academic year 2019-2020, the University of Turin provides the ad hoc teaching program "Ten-month course of Italian language and culture (1000 hours)".
Italian language course is also open to Turandot program students. 
Course started on November 19th, 2018 (registration date might change according to the visa issuance dates).
During the first week of lesson the students will sit an entrance exam, also CELI exam simulations will be set, in order to evaluate students language level and let the students be get used to the exam.
The course, which lasts ten months (from November 2018 to August 2019)*, includes intensive classes about 30 hours per week, arranged as described below:
13 hours of Italian language
11 hours of language practice (held by Chinese speakers)
2 hours of Italian Academic language and culture with guidelines for students attendance at University courses
2 hours of Italian and Europe history and culture
Lessons are divided in two lessons in the morning for 5 hours, with a break between, and some additional lessons a week in the afternoon, focused on culture and supplementary language lessons. Students must attend at least 80% of the total course hours to be eligible for sitting the CELI exam and enrol in the university.
* Classes are suspended on December 8th, during Christmas holidays, Easter holiday, April 25th, May 1st, Jume 24th and in the two central weeks of August.
In August 2019 students will take CELI (Certificate Italian General) B1 level test.
Starting from a.y. 2018-2019 we will accept for university enrolment only Italian language proficiency certificates issued within the CLIQ (Italian Language Quality Certification) quality system frame, which brings together the current Certifying Bodies (Università per Stranieri di Perugia, Università per Stranieri di Siena, Università Roma Tre and Società Dante Alighieri) also in agreement with the Italian Cultural Institutes or other subjects.
Apply@UniTo
Enrolment in a Master's Degree program is subject to the positive assessment of curricular requirements specific to each and every course. We highly suggest Marco Polo project's students who wish to enrol in a Master's Degree course at University of Turin to fill out the online form (available from February 2019)  for the preventive assessment of curricular requirements. Please be also aware that the courses offering is annually updated, thus we cannot anticipate any future change in curricular requirements.
The preventive evaluation does not constitute formal admission to the chosen course but is a useful tool for students in choosing a more coherent course to his / her educational background.
The applicant will be informed about the outcome of the preventive online evaluation within the deadlines published on the website. 
After you submit your online application, you must email your applicant code to marcopolo@unito.it.
The University of Turin's Italian language program
The University of Turin, in cooperation with the University Language Centre, the Confucius Institute of Turin and the Centre for Advanced Studies on Contemporary China, provides welcome services and courses of Italian language held in Chinese language, tailored to meet the specific needs of Marco Polo and Turandot Programmes.
Three reasons to study in Turin
Courses designed for Chinese speakers

Assistance and counseling in Chinese language
Academic culture and Italian University courses attendance guidelines
Welcome services
A special help desk offers support in Chinese language, since students' arrival in Italy. The University organizes specific guidance services for Marco Polo and Turandot students, in order to facilitate their accommodation in university facilities, to smoothly fulfill paperwork and documentation required for their stay in Italy and to facilitate their integration into everyday students life in Turin. To this end, institutional meetings with Italian students studying Chinese Language and students from the Confucius Institute are regularly convened.
Living in Turin
Turin is a city worth getting to know better. Turin plays a very important industrial and financial role in the country and at the same time is a great cultural centre.
The city, thanks to the cooperation with Tourist Office and the University of Turin, is now an ideal destination for foreign tourists. In particular, thanks to the "Turin Tourism project" Chinese visitors benefit from a series of special services, including a city sightseeing tour in Chinese language and a Chinese welcome card.
The University of Turin has many partnerships for exchange and research projects with Chinese Universities. In 2008 the University of Turin, in cooperation with Shanghai East China Normal University, established the Confucius Institute in Turin.
This page has been visited 736 times in the last year. Source: Google Analytics.