Marco Polo and Turandot projects
The project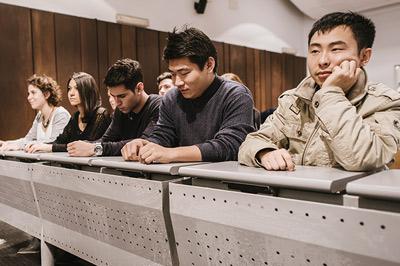 Marco Polo project is a program aimed at providing Chinese students who wish to study at an Italian University but have no Italian competency the opportunity to obtain a University Enrolment Visa for those undergraduate and postgraduate degree programs which reserved places for Marco Polo students, on the condition that students take a 10 or 11 month Italian language course prior to the university enrolment. Students may choose the language course they wish to attend among the courses offered by the universities or language schools participating in the Marco Polo project. Students who at the end of the language course obtain the B1 or higher level certificate of the Italian Language Proficiency Test will meet the language proficiency entry requirement.
How and when to apply
Students planning to attend the ten-month long Italian language course must submit the pre-enrolment application to the Italian Embassy or Consulate in their home country within August 27th 2020. On the application form students must select both the language course school and the University they wish to attend at the end of the language course. 
We remind students wishing to enroll in a Postgraduate degree (Laurea magistrale) or in a 5-year or 6-year postgraduate degree (Laurea magistrale a ciclo unico) to carefully verify all entry requirements, paying specific attention to language and didactic requirements.
See the list of the degree programs and the entry requirements for the current academic year.
In addition, if you do not hold a university degree, for Declaration of Equal Value to be issued your Gao Kao score must be at least 400/750 (only for Marco Polo's students). 
Students have to fill in the language course application form and send it back to marcopolo@unito.it within September 20th 2020, together with all required documents. Contact us to get the application form.
The University of Turin's Italian language program
The University of Turin, in cooperation with the University Language Centre and the Confucius Institute of Turin, provides welcome services and courses of Italian language held in Chinese language, tailored to meet the specific needs of Marco Polo and Turandot Programmes.
Course offering
For students applying for the academic year 2020-2021, the University of Turin provides the ad hoc teaching program "Ten-month course of Italian language and culture" (1000 hours) which enrolment fee amounts to € 4,850.00. Italian language course is also open to Turandot program students. 
The course will start if the minimum number of students is reached.
In order to ensure the safety and health of everyone, the course will start online, then at the beginning of the 2021, it will be decided in accordance with the national and international provisions, if it will be possible for the students to come to Italy in order to continue the course face-to-face.
The online lessons will be held through video-conferencing and didactic activities which will have to be carried out autonomously by the students under the guidance of their teachers.
In order to ensure an adequate preparation for taking the Italian language exam (B1 level), the lessons are developed for guiding the students to improve all their linguistic skills, both receptive and productive, as it would be done through face-to-face learning.
Lessons will be held by Italian teachers and by Chinese-speaking Italian teachers from the Confucius Institute of Turin both specialized in teaching Italian to Chinese students, which ensure that the students will be guided during all the language learning phases.
Course starts on November 2nd, 2020 
During the first week of lesson the students will sit an entrance exam and exam simulations will be regularly set in order to evaluate the student's language level and help them get acquainted with the exam.
The course, which lasts ten months (from November 2020 to August 2021)*, includes intensive classes about 30 hours per week, arranged as described below:
13 hours of Italian language
11 hours of language practice (held by Chinese speakers)
2 hours of Italian Academic language and culture with guidelines for students attendance at University courses
2 hours of Italian and Europe history and culture
Lessons are hold in the morning for 5 hours (Italian hour), with a break between, and some additional lessons a week in the afternoon, focused on culture and supplementary language lessons. Students must attend at least 80% of the total course hours to be eligible for sitting the final exam and enrol in the university.
Classes are suspended during Christmas holidays, Chinese New Year, Easter holiday, April 25th, May 1st, June 24th and in the two central weeks of August.
In August 2020 students will take CELI (Certificate Italian General) B1 level test (or an alternative exam of the same level if it will not be possible to sit the exam face-to-face.
If it will be possible for the students to come to Italy during the language course, they will have access to the following services:
University's Wifi
Membership to the University Sports Centre (CUS)
University's canteens.
Starting from a.y. 2018-2019 we will accept for university enrolment only Italian language proficiency certificates issued within the CLIQ (Italian Language Quality Certification) quality system frame, which brings together the current Certifying Bodies (Università per Stranieri di Perugia, Università per Stranieri di Siena, Università Roma Tre and Società Dante Alighieri) also in agreement with the Italian Cultural Institutes or other subjects.
Three reasons to study in Turin
Courses designed for Chinese speakers

Assistance and counseling in Chinese language
Academic culture and Italian University courses attendance guidelines
Welcome services
A special help desk offers support in Chinese language, available also from China. The University organizes specific guidance services for Marco Polo and Turandot students, in order to facilitate their accommodation in university facilities, to smoothly fulfill paperwork and documentation required for their stay in Italy and to facilitate their integration into everyday student's life in Turin.
Living in Turin
Turin is a city worth getting to know better. Turin plays a very important industrial and financial role in the country and at the same time is a great cultural centre.
The city, thanks to the cooperation with Tourist Office and the University of Turin, is now an ideal destination for foreign tourists. In particular, thanks to the "Turin Tourism project" Chinese visitors benefit from a series of special services, including a city sightseeing tour in Chinese language and a Chinese welcome card.
The University of Turin has many partnerships for exchange and research projects with Chinese Universities. In 2008 the University of Turin, in cooperation with Shanghai East China Normal University, established the Confucius Institute in Turin.