Hygiene and health measures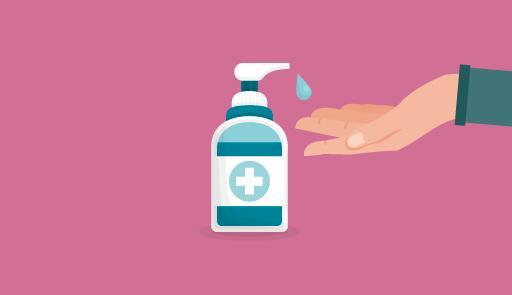 General measures on viral respiratory diseases prevention
Viral respiratory infections and coronavirus 2019-nCoV
The new Coronavirus 2019-nCoV is included among the viruses responsible for respiratory infections, it can cause pathologies with symptoms similar to those of common flu.
The Coronavirus 2019-nCoV is part of a big virus family that causes a lot of diseases, most of them are not serious, from common cold, with or without fever, cough, to difficulties in breathing.
It causes pneumonia with acute respiratory diseases very rarely (5%) in the worst cases.
The Coronavirus 2019-nCoV - like all the coronaviruses - can be spread from person to person by close proximity with an infected patient.
General health protection measures
Basic rules to prevent acute respiratory viral diseases must be followed carefully. 
In particular, attention is drawn to the following behavioural norms:
wash your hands thoroughly and often, for at least 40-60 seconds with water and soap
keep a distance of at least 2 meters from people with respiratory diseases symptoms (cough or sneezes), avoiding close contact
avoid touching your eyes, nose and mouth with hands.

 
When you sneeze or cough:
always use a tissue or cover nose and mouth with your elbow

throw used tissues in a bin

wash your hands and face immediately after.
All the details are available on the Ministry of Health and Higher Institute of Health (ISS) website.
Specific measures implemented by UniTO
The following measures were implemented specifically by UniTO:
Spaces' cleaning
Update of the cleaning process of University spaces according to: Ministry of Health recommendations to prevent the spread of Coronavirus 2019-nCoV (disease COVID19). The recommendations suggest "to use common disinfectants that can kill the virus, stopping its ability to infect people, i.e. disinfectants with 75% alcohol or chlorine-based at 1%
Increase of the frequency of cleanings
Special cleanings for classrooms, study halls, libraries, toilets, public and transit areas, with sanitization interventions, since the academic activities were temporary suspended
Generally, all employers are encouraged to aerate the rooms frequently, especially in case of people reception areas
All employees with activities that can't be postponed or be fulfilled remotely and need to work on site should aerate the rooms frequently.
Online services and movements
The following measures are provided to avoid people crowding:
suspend all teaching and other face-to-face activities, as ruled by Authorities, adopting online modes
close all University venues, except for medical and health ones and hospitals. Keep the Rectorate open from 9 a.m. to 6 p.m., only for services that can't be postponed or fulfilled remotely
What to do if you show any symptoms
Only health system members and Protezione Civile system should verify and collect information about Coronavirus symptoms and movements of people. They are the authorities designated to guarantee public health rules observance, as it was clarified by Garante per la Privacy.
Collaboration is required from all employees, in all their parts, such as Professors, administrative staff and similar figures (students included) to inform only about their own limiting and health measures assigned by Health Authorities. The communication can be sent to UniTo's competent doctor (they will confidentiality guarantee), it should include role and workplace and it should be send by email to medicicompetenti@unito.it. Such communication is useful to help tracking people that had contacts and to adopt dedicated hygienic measures.
All employees, that are still working on venues for services that can't be postponed or fulfilled remotely, mustn't go to workplace if they show obvious symptoms linked to respiratory diseases with fever. They should contact:
their family doctor
toll-free number 800 19 2020 created by Piedmont Region, dedicated to health claims on Coronavirus. The number is active 24 hours a day
the phone number 1500 created by Ministry of Health
your local public health authority (ASL).
Whoever may show these symptoms in the workplace must stop their working activities and leave the place of employment, making sure to follow the proper precautions.
According to the regulations of March 14th 2020 "Protocollo condiviso di regolamentazione delle misure per il contrasto e il contenimento della diffusione del virus Covid-19 negli ambienti di lavoro": all employees affected by pathological conditions (certified by their own doctor), should inform Servizio Medici Competenti (Competent Doctors Service) by email medicicompetenti@unito.it to take the right measures (if they are not already working remotely).
Administrative staff will follow the usual rules for reporting absence of work due to illness.